REGISTRATION – The online registration process is in three stages.  (you may wish to print these instructions, to help you in this process)
OVERVIEW:
On (this) First Page: Scroll all the way down to

Core Tickets

and select the items (tickets) for which you are registering.
Second Page: enter personal and contact information and make further selections of ensembles and workshops, etc.
Confirmation and Payment   

*

An automatic confirmation of your submission will say

"Not Approved"

– MMF will look over the registration and change your status to

"Pending Payment"

 and send you an email with a link to complete your payment for REGISTRATION – but, you may alternatively mail a check to MMF at 457 S. Church St., Winston-Salem, NC 27101. When received, we will acknowledge payment and change your status to

"Approved."
DETAILED INSTRUCTIONS:
1. First Page: you will select the items (tickets) below – these are items that have a cost, i.e., tuition, room, meals, music fee, etc. Please take a moment to click on "details" if you are unsure about the item.
Please select the music package you need, and the housing you need (it will ask you specifics on the next page). You will select tours, recordings, and t-shirts (it will ask you sizes and which recordings you want, on the next page).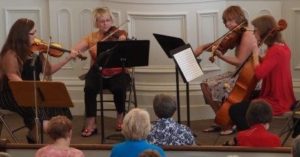 ADULT – Please select "Adult Festival Registration." Couples may choose "2" to register together.
Adults may add "Youth Festival Registrations," entering the total number of youth. While there is no tuition cost for youth, room and meals would apply, so select the total number of people needing housing or meals. (most "families with children" find a hotel to be more economical, since you can reserve per room, rather than per person)  (Housing is first come/first-served and no housing is arranged by the Festival after June 1)
Children's program is free, but housing and meal costs apply. Please complete paper forms for each child  HERE .
Once you have chosen the items you think you will require, click on the "Register Now" button at the bottom of the page, to begin the process.   (Wait while the cogwheel spins)
(MMF staff can correct problems, or mistakes, when necessary, after you register and before you finalize and make your payment.)
2. Second Page: You will enter all your personal information, for each person, and make your choice of Large Ensemble (choice of Chorus, Concert Band, or Attendee). Then, you will select your smaller ensemble choices and workshops. If two or more are registering, you will have a box in each window to identify the person for each selection.
If you have any questions, please call Erik at 336-725-0651.
* Click on "Proceed to Payment Options" OR "Update Payment Options"    (Wait while the cogwheel spins)
3. Third Page: When you complete the first two steps in the process, This third page will confirm the items for which you are registering. Click on the button at the bottom of the page, to FINALIZE the REGISTRATION. 
A. You will immediately receive an email saying "Registration Not Approved." That means the registration is new, and has been received, but MMF staff has not reviewed the application.  MMF Staff will review and contact you with any questions or concerns; then, MMF will make any adjustments.
B. You will soon receive an email saying "Registration Pending Payment."  At this point, the amount is confirmed by staff and you may click on the link at the bottom of the email   "You can make a payment here >>"    to pay by PayPal – or Print the Invoice and mail in your payment or call it in to 336-725-0651.
Mailing a check is the most cost-effective for MMF – no fees are deducted.

C. When MMF receives your payment, you will receive an email saying "Registration Approved." 
Payments: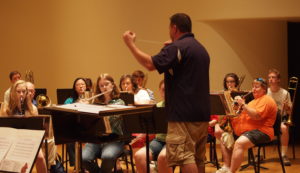 Online payments are processed through PayPal. This

does not

require a PayPal account or registration or a password – simply enter your credit card info or bank account info (for ACH payment), enter the amount and your name, and submit – it is very EASY and PayPal hides all bank and card information!
We also accept payments in person, by mail, or by phone – check or cash or credit or debit card, during normal office hours!
Payments by check are the most cost-effective for MMF
                      (Payments are due by June 1, $200 is non-refundable upon your cancellation) 
---
YOUTH (completed grades 7 – 12) – please register for each event, workshop, and ensemble with which you will participate.  Choose "Youth Festival Registration" and the remaining process is same as for adult registrant.
"Listener/Participant" – Adults are not required to participate in a large performing ensemble, but need to register if they plan to participate. Choose "Adult Registration," below, to get started.
CHILDREN (completed kindergarten – grade 6) – please print the Child Registration Form HERE and mail to MMF at 457 S. Church St., Winston-Salem, NC 27101
or fax it to 336-725-4514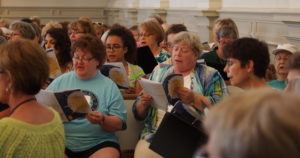 If you have any questions, please call Erik at 336-725-0651
25th Moravian Music Festival
July 23, 2017 - July 29, 2017
4:00 pm - 12:30 pm
-

This ticket is required