Wednesday afternoon activity (extra charge)
Moravian Music Festival week
A Crawl is simply a tour, taken at a leisurely pace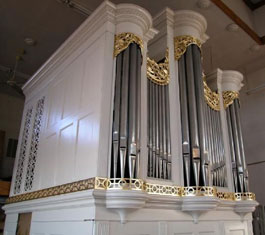 11:45 noon to 5:30pm.
Join us for a tour of 7 of Winston-Salem's finest pipe organs. 
DEPART 11:45am from Salem Fine Arts Parking Lot (load 11:30 – 11:45am)
We'll start at the
1. Old Salem Visitors Center for a noon recital on Home Moravian Church's 1800 David Tannenberg organ (2m/pedal)
and a "Bach's" (boxed) lunch, then travel to
2. Saint Timothy's Episcopal Church for 1898 Hook and Hastings opus 1801;
3. Ardmore United Methodist Church for 1978 Noack opus 87;
4. Saint Paul's Episcopal Church for 1928 EM Skinner opus 712 and 2004 CB Fisk opus 131;
and return to Salem College Elberson Fine Arts Center for
5. 1965 DA Flentrop,
6. 1964 Holtkamp opus 1785 and
7. a possible encore treat of the 1957 Flentrop in Salem's organ studio (the first 2m Flentrop in the US.) 
Time has been allocated to allow for travel, presentation, and inspection/playing by participants. 
Each participant may select one of the organs to play.  
You will receive copies of the Festival Organ Handbook plus copies of Organs in the Wilderness and Splendid Service: the restoration of David Tannenberg's Home Moravian Church Organ.
Transportation will be in the comfort of an air-conditioned motor coach departing at 11:45 from Salem College to the Visitor Center. 
$30 charge to cover transportation.
Hal Garrison, leader.
Handbook link:  https://app.box.com/s/26dyok4avxu770zbzm22jk6wxt8rrabz