Festival Concert Band invites all wind instrumentalists, of all ages and levels, to participate in rehearsals and performances all week. Registrants of the Moravian Music Festival may play with the Concert Band, as well as other small ensembles, like handbells, chamber, or trombone choir.
Rehearse in Fellowship Hall of Home Moravian Church MAP
Monday, 9:30am and 3:30pm
Tuesday, 9:30am and 3:30pm
Wednesday, 10:30am
Thursday, 9:30am and 3:30pm  (we will not play so much that we wear you out before the concert)
Friday, 9:30am and 3:30pm
The main instrumental concert is on Thursday evening at 7:30pm at Calvary Moravian Church (600 Holly Ave.), featuring the Concert Band, maybe Handbells, and Trombones.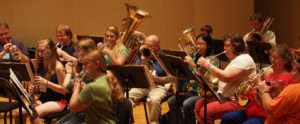 BUT.. it does not end there.
So that Friday is also busy, productive, and fulfilling, the Ensembles will continue rehearsing, and present again on Saturday morning.
The Director of the Festival Concert Band will be Chris Wormald, from Bolton, England.
Allen Frank , from Bethlehem, PA, and Director of the 24th Moravian Music Festival Band in 2013, will be Assistant Director.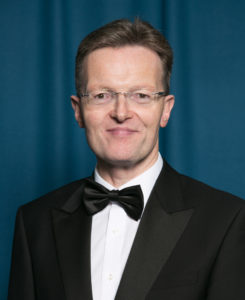 Chris Wormald
Born in 1961, Chris Wormald was UK Music Teacher of The Year in 2001 and prior to that he had received The Harry Mortimer Medal in 1998 from the Worshipful Company of Musicians at the British Open Brass Band Championships in Symphony Hall, Birmingham for his outstanding contribution to British music education through conducting brass and wind bands. Chris is a 1982 graduate of the University of Hull and was awarded the Andrew Brown Memorial Prize for achieving the top degree of his year at university. He also possesses an L.T.C.L. French Horn Diploma (1981) and a Postgraduate Certificate in Education (1983, with Distinction). Chris has been a long time member of the British National Association of Brass Band Adjudicators (A.B.B.A.), National Association of Brass Band Conductors (N.A.B.B.C.) and has won numerous contests, competitions, festivals and awards as conductor, horn player, teacher and arranger.
Chris has conducted brass bands, wind bands and orchestras professionally since 1983. His UK brass band highlights include conducting Brighouse & Rastrick at the 1994 Leek Arts Festival and conducting Grimethorpe in concerts from Reading Town Hall to South Wales as recently as 2007 whilst the band was National Champions of Great Britain. Chris joined James Shepherd Versatile Brass as its horn soloist for five years at the personal invitation of Jim Shepherd in 1990, the year he was also appointed to Smithills School. Prior to that, Chris was Head of Brass Instrumental Teaching for Bolton Education Authority from 1983 to 1990 during which time he also taught at the Royal Northern College of Music in Manchester and the Queen Elizabeth Grammar School in Blackburn in addition to the Blackburn School of Music. Back in the 1970s, Chris was a member of the National Youth Brass Band of Great Britain as a teenager, alongside Ian Bousfield, Nicholas Childs and many other leading figures and played with the NYBBGB under Harry Mortimer at Belle Vue in 1978.
Chris formed his internationally renowned, multiple UK and World champion Smithills School Senior Brass Band in 1991 and over the next twenty years of competition together they won over fifty major national and international competitions including becoming inaugural World Brass Band Champions in Kerkrade, Holland, in July 2005 (Adult, 3rd Section). They also won an unprecedented twelve National Festival of Music For Youth titles at the Royal Festival Hall in London and Symphony Hall in Birmingham in sixteen years including two runs of five consecutive years in that time; a level of success never achieved by any school before or since. Chris has conducted Smithills all over the World, from Norway to New Zealand and Japan to the USA (five concert tours) in addition to eight times at the Royal Albert Hall in London.
Chris has over one hundred adjudications to his credit all over the World since 1991, with emphasis on Championship Section and European national contests since 2004. These include the Swiss National Championships, French National Championships, three English National Championships, two Scottish Opens, Brass In Concert, Grand Shield (Senior Cup and Senior Trophy), National Brass Band Finals, many Yorkshire, North West, Midlands, London, South West and Scottish Area contests, Muse Festival (Singapore), Pontins, Wilkinson Northern Open, Carnegie Trust, Preston Guildhall, Durham Association, Leicestershire Association, BBL (Northern Ireland), Scottish Borders, Buxton, Weston-Super-Mare, National Eisteddfod of Wales, Easingwold, Skipton, Fleetwood, Ebbw Vale, Hardraw Scar, Minsthorpe, Morley, Rhyl, Whit Friday (now annually at Greenfield) and the British Open Solo & Quartet Championships.
As an orchestral French Horn player, Chris made his professional London debut in the World famous Philharmonia Orchestra at The Barbican in 2003 after two decades of playing with major UK orchestras in the north, something he continues to do. Chris also has over one hundred published brass band arrangements to his credit with Studio Music, Wright & Round and Obrasso. His Obrasso arrangements are recorded on CD by Black Dyke, Cory and Brighouse & Rastrick. From 2016 Chris has signed to arrange for Kirklees Music, another of the World's leading brass, wind and percussion music publishing firms.
Mr. Wormald performed with the Smithills Senior Brass Band at Home Moravian Church, Winston-Salem, while on tour in North Carolina in 2014. It was that summer, he made many friends in the Moravian Church.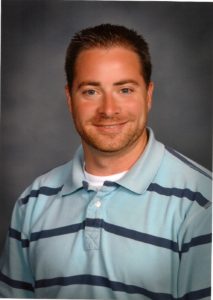 Allen Frank
Assistant Director of Instrumental Music at Liberty High School in Bethlehem, PA. He is a professional tubist, member of the Mainstreet Brass Quintet, and was the Director of the 2013 Moravian Music Festival Band. Allen led the band for the Moravian Music Weekend at Laurel Ridge in March of 2015.
Before earning a BA in Music from Moravian College, Allen served in the United States Marine Corps where he was a tuba and vocal soloist as a member of the Quantico Marine Band.  Before beginning his teaching career, he was a also a member of the national touring cast of the Broadway show BLAST!.  As a conductor, Allen had the honor of participating at the 2007 Unity Brass Festival in Cape Town, South Africa.  At Liberty High School, he directs the 300-member Liberty Grenadier Band.  The band has marched in the Rose Parade, shared the stage with the Red Hot Chilli Pipers, opened for the Royal Marines Band and will be traveling to Hawaii for the 75th Anniversary of Pearl Harbor.  Allen is member of the Mainstreet Brass Quintet and does freelance work around the Lehigh Valley.  He resides in Bethlehem with his 10-year old son, Jonathan.
Below, Allen conducts at the 2009 Festival at Belmont Abbey in NC (left), and the 2013 Festival Band in Bethlehem (right).