Festival Chorus is open to all vocalists attending the Festival, and is directed by Maestro John Sinclair, Festival Conductor. All vocal parts are needed and welcome. Required is, a love of Moravian music, a thirst for learning, and commitment to sharing your talent.
This ensemble's rehearsals and repertoire center around the Friday night Festival Chorus and Orchestra Concert at Williams Auditorium, Winston-Salem State University. Workshops for vocalists are held throughout the week. There are many more singing opportunities, including Opening Lovefeast, Anthem Sing, morning devotions, and final Singstunde on Saturday.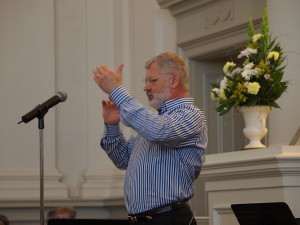 Many of the anthems written by Moravian composers are fully scored for strings and winds, and sometimes, brass. The Chorus will have a rehearsal accompanist, as well, and some anthems may be accompanied by organ.
( Photos from 2013 and prior years. )