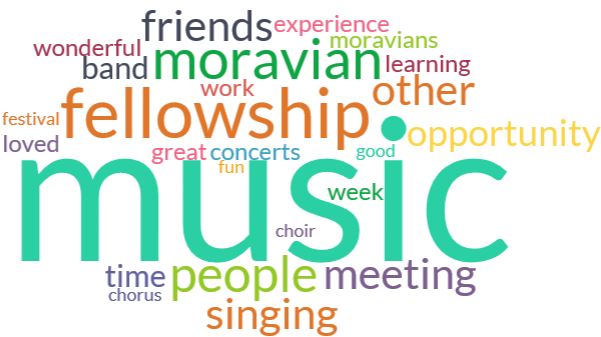 Part 2 of
the 26th Moravian Music Festival
July 26 – 30, 2022
participants will convene
in Bethlehem, Pennsylvania, USA
on the campuses of Central Moravian Church and Moravian (College) University.
a celebration of music, created with inspiration, and presented with joy.
a shorter in-person festival to build upon the work and inspiration of Part 1; focusing on live performance and worship.
Every four years, the Moravian Music Foundation (MMF) sponsors a multi-day music festival to celebrate Moravian music, explore the history of Moravian music, to teach and share, and to explore new avenues and directions in music.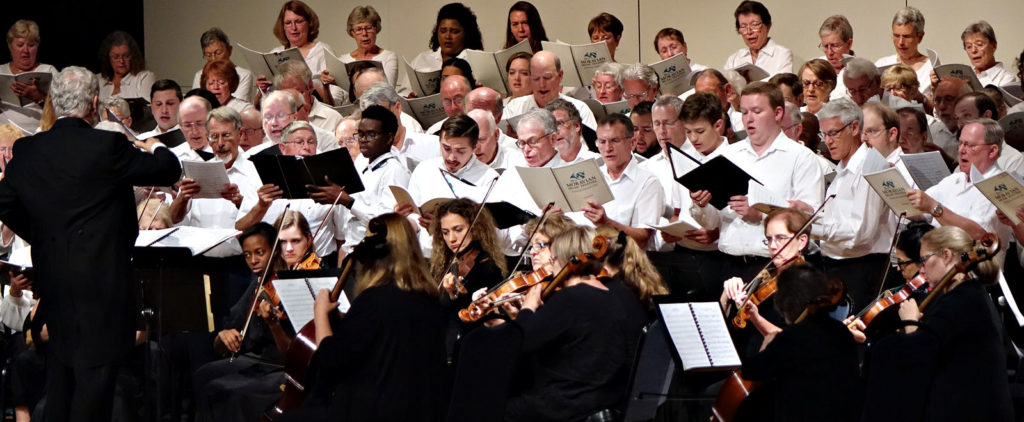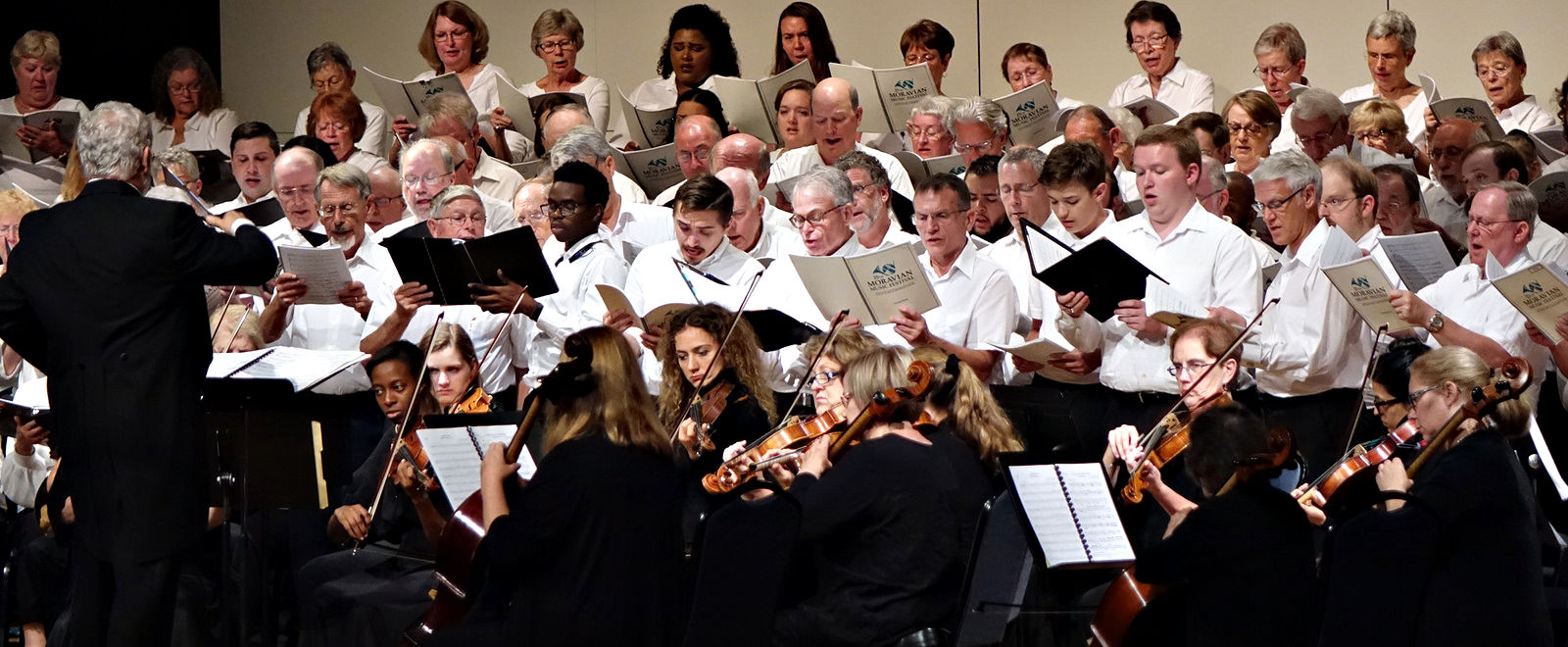 Hundreds more will attend and enjoy the many performances of both new and historic Moravian music in the concert venues of Central Church and Foy Hall.
The Festival is for everyone, serving musicians of all levels, from beginner to director.

Advance registration is required.
Online registration is quick and easy.
Festival registration packets may be mailed upon request.
Housing will consist of THE HILL of Moravian College and blocks of rooms at area hotels.
Local residents are asked to register, as well.
There will be options for full meal plans or daily "commuter" meals on campus.
There is an extra fee for late registrations.
Moravian Music Festivals are a learning opportunity for singers, instrumentalists, and directors (Moravian and non-Moravian). They are full of practical ideas, skills, and techniques for the musician, the musical group, and the congregation.
---
Concurrently, there will be a children's summer music program and a youth program!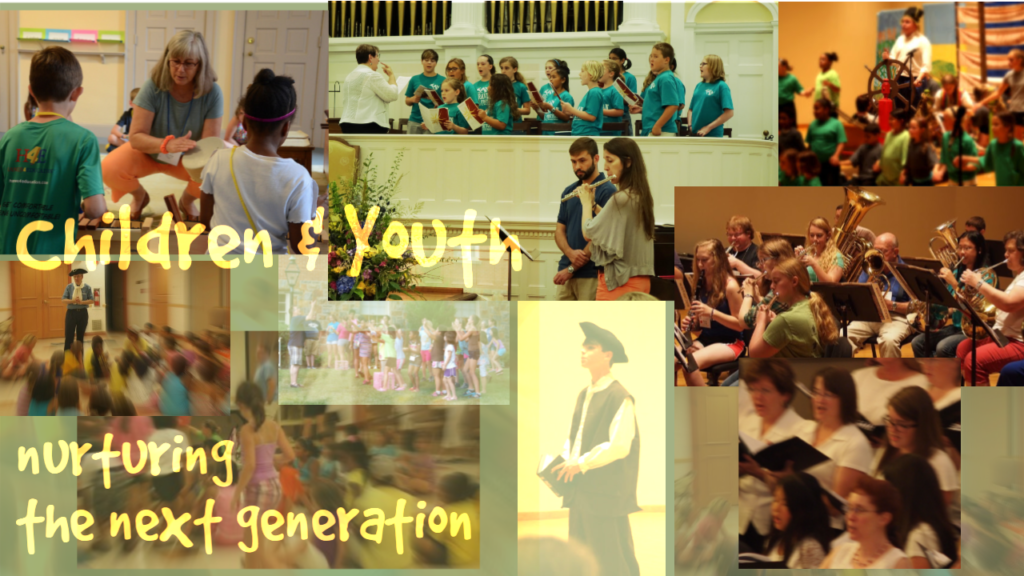 ---
Participants will choose tracks for choral, wind instruments, and/or handbells. Each day will be comprised of workshops and rehearsals for ensembles, handbells, orchestras, and lots of singing, with special moments for worship, fellowship, and reflection. Some evenings will begin with a band prelude, and culminate with featured concerts by the Chorus and Orchestra, Concert Band, and other smaller music ensembles.
The Festival will also have ensembles of steel pan, handbells, trombones, as well as chamber groups of various traditional instruments.
We are very excited about a new worship ensemble project that will also combine a variety of sounds and instruments with voices to create entirely new music!
The concerts will be free and open to the public, and we hope you will join us. Audiences will experience a wide range of repertoire, from sacred band chorales to contemporary songs; from concert anthems with orchestra to new arrangements for concert band!

One of the greatest benefits of registering for the 26th Festival will be the opportunity to work with wonderful conductors, composers, singers, and instrumentalists, highly acclaimed in their individual disciplines. For the upcoming festival, we are proud to bring in several leading conductors: Dr. John Sinclair, professor of music at Rollins College and Artistic Director of the Bach Festival Society of Winter Park, FL. Allen Frank, of Liberty High School, with years of professional performing and teaching experience. Sarah Hriniak and Myra Jones will lead the children's music program and ACTS musical theater. Jan Harke will lead the Handbell Program. Don Kemmerer will lead the Festival Trombone Choir. The Rev. Nola R. Knouse, Ph.D. will be Music Director of the Festival.
The first Moravian Music Festival was in 1950. Since 2010, the Festivals have been the responsibility of the Foundation, which has worked well, since the "institutional memory" and artistic planning of music festivals already resided with MMF.

The local Festival Planning Committee is a dedicated team of tireless volunteers, who began working in 2018, ably led by Hank Naisby. Please contact Hank to volunteer during Festival week. People are needed to help with the children's program and theater production, to assist with check-in, to usher and greet audiences, assist visitors with questions or needs, and provide transportation or airport shuttles.
Each year, the Festival Committee seeks support from those who value the Festivals and want to encourage participation, especially by younger musicians, by supporting the Festival Scholarship Fund. Donations of any amount are invited. Underwriting sponsorships of concerts and other Festival events are welcome, as well.
As part of the opening worship for the Moravian Music Festival on July 27, 2022 we will have a time of remembrance for those musicians who have been called to the more immediate presence of the Savior since the 2017 Moravian Music Festival. We would like to make this list as complete as possible, so if you have someone you would like to be remembered as part of this worship service, please send the name to Nola Knouse at the Moravian Music Foundation: nola@moravianmusic.org.
The Moravian Music Festival is a unique opportunity to celebrate the musical heritage of our congregations.