"Moravian music, past and present, is grounded and rooted, grows and bears fruit within and for the worship of the Savior."
Church, Rejoice!
Moravian Music 101
Nola Knouse guides the audience through an overview of what we call Moravian music, cleverly presented as a "theme and variations," with some history and a wealth of context and inter-relationship.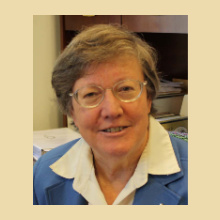 Rev. Dr. Nola Reed Knouse
Director, Moravian Music Foundation
The Rev. Nola Reed Knouse, Ph.D., Director of the Moravian Music Foundation, holds degrees from Wake Forest University and the Eastman School of Music of the University of Rochester, with specialization in eighteenth-century German music theory and performance. She also holds the Certificate in Theological Studies from Moravian Theological Seminary and is an ordained Moravian minister.
Dr. Knouse edited and contributed to THE MUSIC OF THE MORAVIAN CHURCH IN AMERICA, writing four of the ten chapters, with several Moravian Music scholars contributing the others. Her articles and book reviews have appeared in Current Musicology, Music Theory Spectrum, Journal of Undergraduate Mathematics, and the Moravian Music Journal.
She has held teaching positions at the Eastman School of Music, Oregon State University, North Carolina School of the Arts Community Music School, Wake Forest University, and Salem College. In addition to her work as Director of the Moravian Music Foundation, she is active as a flutist, composer, and arranger. She is a lifelong Moravian and a native of Winston-Salem, North Carolina.
Day in 2021
Sunday, July 18, 2021
---
---
This will take you to a page that is password-protected. ( not active until Festival week )
Enter your password and choose the link of the event – organized by day and time.
This event is viewable after the premiere, on the same platform; please use the same link.
All times are Eastern Daylight Time (USA); Bethlehem, PA; New York