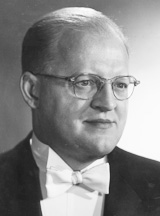 The second Early American Moravian Music Festival and Seminar was held at Moravian College for Women and Central Moravian Church in Bethlehem, Pennsylvania, on June 21-27, 1954.

Thor Johnson served as music director and conductor, with Maude Nosler, soprano, and a chamber orchestra of top-notch professional players, many of whom were colleagues and friends of Dr. Johnson. All of the Festival anthems were prepared by Dr. Clarence Dickinson, with English translations by Helen Dickinson. These were many of the "Early American Moravian Music" publications that first put Moravian music "on the radar" of musicians and scholars all over America!
Public presentations of the Festival and Seminar included …
a concert on Friday, June 25, featuring J. F. Peter's String Quintet #1 in D; Two sacred songs by Jeremiah Dencke; the F major Parthia for woodwinds by D. M. Michael; the Adagio and Rondo for Celesta (originally glass harmonica), flute, oboe, viola, and 'cello; and Charles Hommann's Overture for Orchestra.
a concert on Saturday morning, June 26, featuring Michael's Parthia X in E-flat major, Peter's Quintet #3 in G major, and a lecture by Donald M. McCorkle entitled "Secular Music of the Moravians: The First American Collegia Musica"
a public rehearsal on Saturday afternoon, June 26
a concert on Saturday evening, June 26, featuring music by Antes, Haydn, C. F. Abel, Reissiger, Bechler, Simon Peter, and J. C. Bach
morning worship at Central Moravian Church on Sunday, June 27
a concert on Sunday, June 27, featuring Arcangelo Corelli's Concert on C for string orchestra and organ, and Moravian anthems by J. F. Peter, J. Herbst, J. Antes, and P. Wolle, along with organ music by Flor Peeters and Charles Templeton' Strong's Chorale on a theme of Leo Hassler for string orchestra
a morning service at Central Moravian Church on Sunday, July 2, 1950, with music provided by the Seminar Chorus, Orchestra, and faculty
and a concluding Festival Service at Central Moravian on Sunday afternoon, July 2, including anthems by Peter, Herbst, Peter Wolle; Mozart sonatas for organ and orchestra; organ solos; and congregational hymns.
Pre-concert chorales were provided for the Friday, Saturday evening, Sunday morning, and Sunday afternoon events by the Trombone Choir of the Moravian Congregation of Bethlehem under the direction of Mark Davis.
Walter A. Schrempel served as General Chairman of the Festival and Seminar, and the Rev. Reuben H. Gross served as Executive Secretary.
Having had two wonderful Festivals, the tradition was firmly established!