I Have Chosen You
This concert of music for voice and strings will feature soprano, Mary Wilson, who has been hailed as one of today's most exciting artists, receiving critical acclaim for a voice that is "lyrical and triumphant, a dazzling array of legato melodies and ornate coloratura" (San Francisco Chronicle). Opera News heralded her first solo recording, Mary Wilson Sings Handel, stating "Wilson's luminous voice contains so much charisma," they dubbed her recording one of their "Best of the Year."

Premiering at 7:00pm EDT on YouTube
(that means that if you start late, you can still watch from the beginning; also, viewable at a later time.)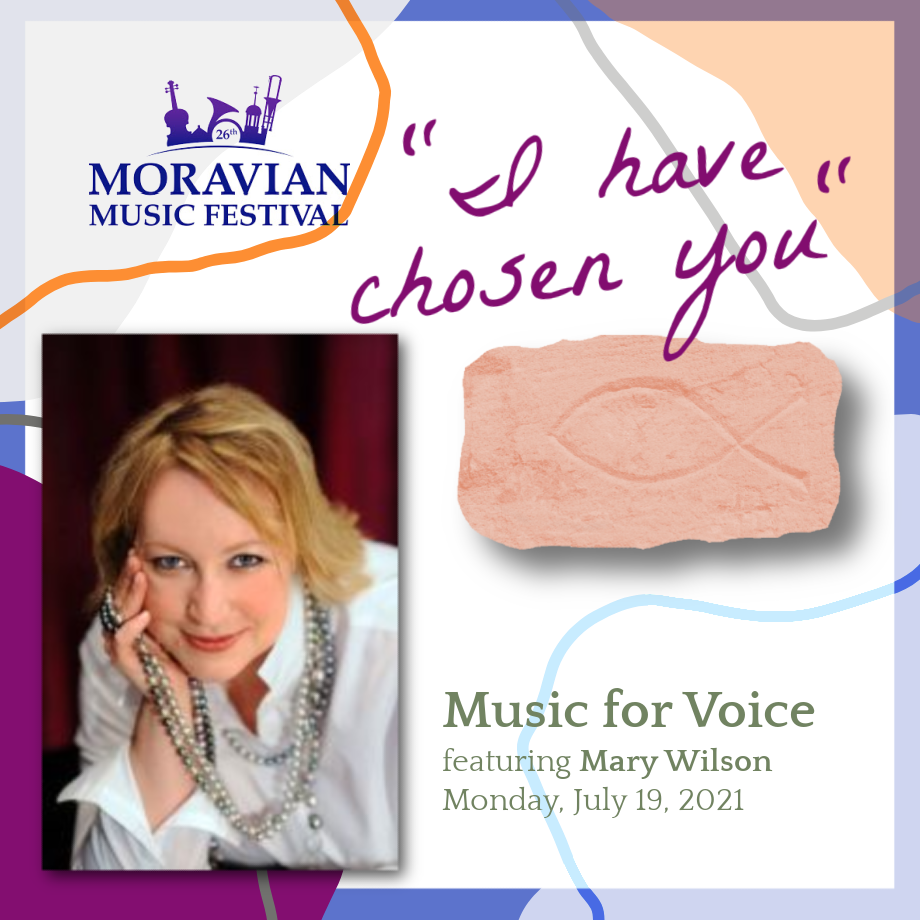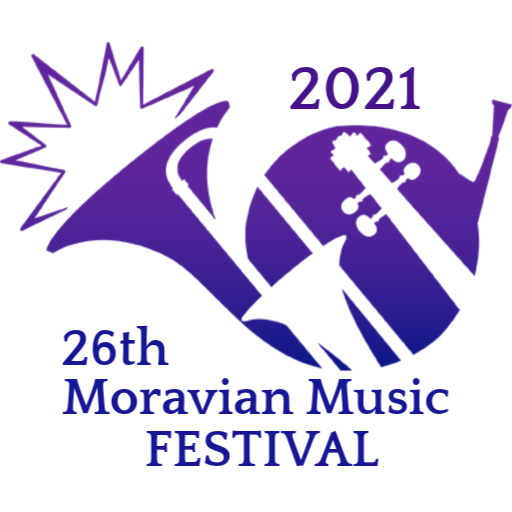 7:00pm Devotions
7:10pm Prelude
7:30pm Concert
SCHEDULE
July 19, 2021
All times given are Eastern Daylight Time; Bethlehem, PA; New York
7:00pm EDT = 4:00pm PDT = 23:00 UTC (GMT) = 24:00 CET
Devotions for Monday
(7:00pm EDT)
G. Randall Gibbs leads a worshipful musical journey through the first verse of Christian Hearts In Love United from the sanctuary of First Moravian Church in Dover, Ohio, USA.
Prelude for Monday
(about 7:10pm EDT)
~ Music by Johann Christian Geisler:
Glory to God in the Highest
– Ellen Saylor, soprano; Gwyn Michel, organ, on a 1776 David Tannenberg organ.
—–
~ Music from G. F. Handel's MESSIAH:
Comfort Ye My People / Every Valley Shall Be Exalted
– Glenn Siebert, tenor; Susan Keck Foster, organ
Then Shall the Eyes of the Blind Be Opened / He Shall Feed His Flock Like a Shepherd
– Amanda Moody-Schumpert, Soprano; Grace Manning, soprano; Mary Louise Kapp Peeples, organ
—–
~ Music by Brian Henkelmann:
Be Still, My Soul
– Marika Kyriakos, soprano; Brian Henkelmann, piano


About our Artist, Mary Wilson
Soprano, Mary Wilson, has been hailed as one of today's most exciting artists, receiving critical acclaim for a voice that is "lyrical and triumphant, a dazzling array of legato melodies and ornate coloratura" (San Francisco Chronicle). Opera News heralded her first solo recording, Mary Wilson Sings Handel, stating "Wilson's luminous voice contains so much charisma," they dubbed her recording one of their "Best of the Year."
In consistent high demand on the concert stage, she has appeared with the Boston Symphony Orchestra, Los Angeles Philharmonic, Philadelphia Orchestra, Cleveland Orchestra, St. Louis Symphony Orchestra, Pacific Symphony, Nashville Symphony, Cincinnati Symphony Orchestra, St. Paul Chamber Orchestra, Los Angeles Master Chorale, Detroit Symphony, Colorado Symphony, Charlotte Symphony, Memphis Symphony Orchestra, Buffalo Philharmonic, National Symphony of Costa Rica, Singapore Symphony, Delaware Symphony Orchestra, Jacksonville Symphony, Virginia Symphony, Eugene Symphony, Rhode Island Philharmonic, Dayton Philharmonic, Boulder Philharmonic, San Antonio Symphony, Santa Fe Symphony, Colorado Music Festival, IRIS Chamber Orchestra, VocalEssence, Berkshire Choral Festival, and at Carnegie Hall and the Hollywood Bowl. She has frequently worked with conductors Jeffrey Thomas, Nicholas McGegan, Martin Pearlman, Martin Haselböck, Robert Moody, Carl St. Clair, JoAnn Falletta, Giancarlo Guerrero, John Sinclair, Anton Armstrong, and Leonard Slatkin.
An exciting interpreter of Baroque repertoire, "with a crystal clear and agile soprano voice perfectly suited to Handel's music" (Early Music America), she has repeatedly appeared with American Bach Soloists, Philharmonia Baroque, Musica Angelica, Boston Baroque, Portland Baroque Orchestra, Grand Rapids Bach Festival, Bach Society of St. Louis, Chatham Baroque, Musica Sacra Festival de Quito Ecuador, Baltimore Handel Choir, Florida Bach Festival Society of Winter Park, Colorado Bach Festival, Moravian Music Festival, the Brooklyn Academy of Music, the Casals Festival in Puerto Rico, and the Carmel Bach Festival.
Equally at home on the opera stage, she is especially noted for her portrayals of Zerbinetta in Ariadne auf Naxos, Susannah in Le Nozze di Figaro, and Gilda in Rigoletto. She has created leading roles in North American and World Premiere performances of Dove's Flight, Glass' Galileo Galilei, and Petitgirard's Joseph Merrick dit L'Elephant Man.
An accomplished pianist, Ms. Wilson holds vocal performance degrees from St. Olaf College in Northfield, Minnesota, and Washington University in St. Louis, Missouri.
Ms. Wilson is an Assistant Professor of Voice at the University of Memphis, teaching applied voice and graduate Oratorio Literature, and resides in Memphis with her husband, son, and two dogs.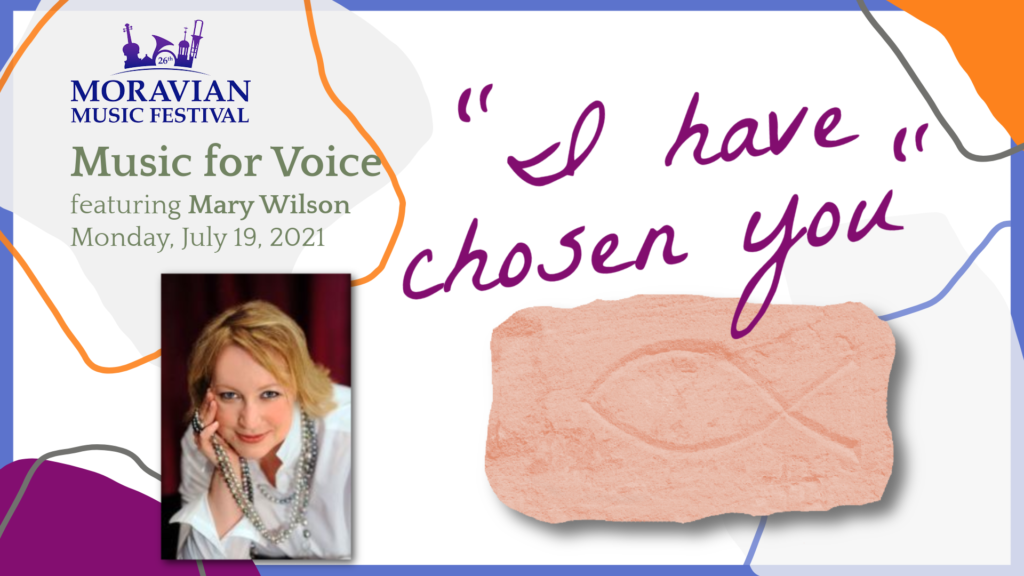 (photo from 2017 Festival)