Prelude Band
Moravian Music Festival
Description
The Festival Prelude Bands will be pre-recorded and submitted by congregations and ensembles around the country and the world, and shared prior to evening concerts.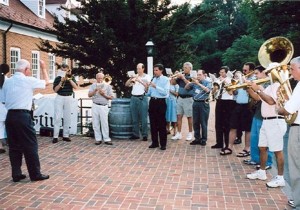 ** Chorale Books are available from the Moravian Music Foundation at the MMF website.
The Moravian Band was formed specifically to assist in worship and daily life of the church, especially outdoors, as a call to worship, in the announcement of deaths, and in hymn accompaniment at the graveside.
Exclusively "trombone" choirs were started in many congregations, in Europe, America, and elsewhere, in the eighteenth century, since trombones were the only brass instruments to play all the SATB parts, chromatically.
With the invention of valve instruments in the nineteenth century, most choirs opened their ranks to other brass instruments and later, to woodwind instruments. The playing of music outdoors, and even during what seem to be more secular activities, emphasizes the Moravian concept that every activity within the community is a liturgical act (not just in the church building). Playing in the brass choirs gives members of the congregation an important task that some perform over great lengths of time. The brass choir or band gives its members a sense of belonging to a community within the larger church congregation. In the twentieth century, North American Moravian Music Festivals, the European Bläsertage (brass festivals) and the South African Brass Band Festivals have became important events in the life of the Church.