Most of the housing for Festival will be at THE HILL, in the historic district on the south campus of Moravian University. This facility was opened in the fall of 2009, and features all single bedrooms in suites (no more than five, persons per bathroom!).
There will be suites for men, for women, and for couples.
Each locked suite has a shared lounge or sitting area and kitchen area.
The single rooms inside the suite have dorm style single beds and a door. Couples are able to be in the same suite, but will each have a single bed in a single room, next door to one another. On each side of the suite, the rooms will share a bathroom. Up to five may share one bathroom.
Linens are provided. There is a refrigerator in each suite.
NOTE: You may want to bring a lamp or small light, since the installed lighting is minimal.
When you walk from Central Moravian Church down the driveway between the Central parsonage and the Widows House, THE HILL is directly in front of you.
Parking is on the south side of the building, off of Main St. The entrance is the driveway beside Foy Hall, near where Main St. crosses Monocacy Creek.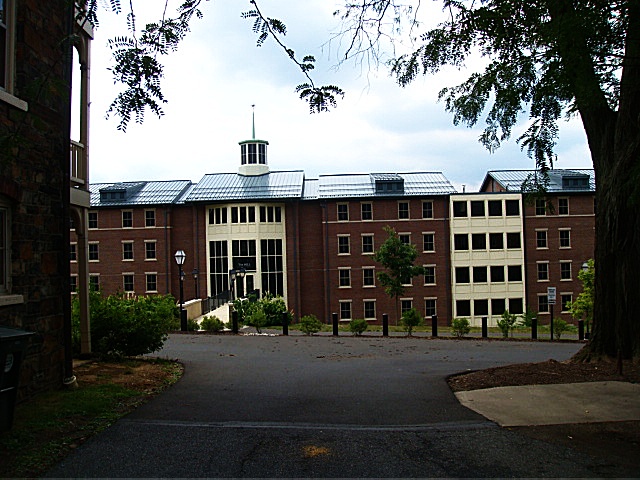 Here's the entrance on the South side, where you'll enter for registration.
Moravian is looking forward to the Moravian Music Foundation camp this summer!

Each attendee will receive the following when it comes to linens:

– 2 flat sheets

– 1 pillow case

– 3 towels

There is a blanket and pillow on each bed for when the guest arrives and the guest is responsible for making up their own bed.

Below are the links for more information regarding in room amenities.
They are segregated into Upperclass and First Year, but consider both lists as included/available.

Residence Hall Amenities LINK

Housing options include access to coinless laundry and wireless internet connection

Residence Hall Amenities LINK

Housing options include coinless in-building laundry, University provided Micro-fridges, and wireless internet connection.

Prohibited Items in Residence Halls:

Information: https://www.moravian.edu/handbook/campus-life/housing/policies